Wifi Security Cameras in Minneapolis
Picture-Perfect Solutions
Whether you're at the office or out of town, you can check in on your kids with the next generation Honeywell Total Connect HD video cameras. Right from your smartphone, these easy-to-use cameras help you look after what's most important to you inside and outside your home.
The security camera is one of the most important features of any residential security system. You need to count on it to be reliable, deliver a consistent stream of footage, and be accessible. In today's increasingly globalized society, it is crucial to be able to check your footage from anywhere in the world. Wi-Fi cameras are the perfect way to do just that.
See, hear, speak, and take a snapshot or video of activity*
View live video
View 30-second video clips
Receive push notifications or email events based on motion and intelligent sound detection
7-day or 30-day video storage options
Contact Floyd Total Security for Your Security Solution Needs
Here at Floyd Total Security, we have the residential security systems you need to keep you feeling safe. Each one is made with the latest technological features, giving you more freedom than you ever had before to choose the perfect system for your needs. Uncertain about which option is best? Come in to see one of our security experts in-store or chat with us online. With a few simple questions, we can start searching for residential security options that suit your lifestyle.
LYRIC™ C1 INDOOR WI-FI SECURITY CAMERA
ALWAYS KNOW WHAT'S GOING ON AT HOME
With Honeywell's indoor C1 Wi-Fi Security Camera, you can watch what's happening at home – anytime, anywhere. Versatile and easy to install, it also sends rapid notifications to your smart device if it detects unusual movement or sounds. You can even combine multiple cameras through the same Total Connect 2.0 App to monitor your whole home yourself. So if something happens when you're not there, you can see it and stop it.
Once connected to the internet through Wi-Fi, the C1 offers you consistent, live streaming from anywhere in the world with an internet connection or access data. In the event, your Wi-Fi goes down or the power goes out, you are still protected. Each camera comes with an encrypted 8 GB backup SD card. Each purchase also comes with free, encrypted cloud storage for all clips recorded within the past 24-hours.
There are a ton of useful features to the C1, including 720p high-definition footage recorded at 30fps, so you don't miss a thing. Additionally, you can program your system to recognize sounds and motions that require extra attention, such as smoke detectors or carbon monoxide alerts. These alerts go right to your phone. For additional safety and security, you can also input the contact information for family members and trusted friends, so the system alerts them to your emergency as well. In situations like carbon monoxide poisoning, this feature can literally be lifesaving.
LYRIC ™ C2 INDOOR WI-FI SECURITY CAMERA
THE SECURITY CAMERA THAT RECOGNIZES YOUR BABY CRYING
Honeywell's indoor Lyric™ C2 Wi-Fi Security Camera can recognize the difference between a crying baby and a smoke alarm and sends a notification to your smart device if it hears either. It also lets you watch what's happening at home, anytime, anywhere, and can detect other unusual movements and sounds. Versatile and easy to install, you can combine multiple cameras through the same Lyric app to keep an eye on your whole home yourself. Now you can see more and hear more.
When you are keeping an eye on the things that matter most, you do not want just any old camera taking low framerate footage. The C2 offers 30 frames per second in crystal clear, 1080p high-definition resolution. These cameras also have a 145-degree range with a 6X digital zoom, giving you incredibly detailed footage. Each one is equipped with two-way audio, so you can speak with whoever is home, even if it is just to provide some reassurance to a lonely pet or a child nervous about a babysitter. Owners also have a few options about how much it records, with motion detection sensors that record only when activity is noticed.
There are a few other power-saving features as well, making this an excellent choice for those who are environmentally minded as well as those who have young children or beloved pets. One of the best ones is the geofencing tracker. Once the app is installed on your phone, you can set it to automatically activate your system whenever you leave home and deactivate it when you return home. As with the C1 model, you can also have the system alert friends and family if certain types of sounds or alarms are detected.
LYRIC ™ WOC1 Outdoor Wi-Fi Bullet Camera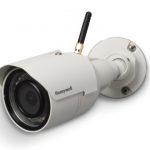 Monitor the outside of your home with the IPCAM-WOC1 1080p Outdoor Wi-Fi Bullet Camera with Night Vision from Honeywell
You want to be sure that your home is taken care of, even when you aren't around. While interior cameras can assure you that everything is going well inside, only residential perimeter security systems can offer you the same level of comfort about the exterior of your home. The W0C1 outdoor camera can do just that. Thanks to its internal storage and Wi-Fi connectivity, you know you are not going to miss a thing.
This camera has a 2MP 1/2.9" CMOS sensor for a resolution of 1920 x 1080 at up to 30 fps. Integrated IR LEDs deliver night vision up to 65'. A 113° horizontal field of view ensures coverage over a wide area. H.264 and MJPEG compression keep file sizes manageable while maintaining the best quality possible. An onboard memory card slot supports microSD/SDXC cards up to 64GB. An 8GB microSD card is included. This device is equipped with 2.4 GHz Wi-Fi connectivity. Remote access and control via iOS and Android devices is possible via the Honeywell Total Connect App.
Four active motion detection zones with different levels of sensitivity
Mechanical IR cut filter for day and night functionality
Built-in light sensor is designed to detect light more accurately
Up to 10x digital zoom
IP66-rated enclosure that is suitable for outdoor use
Schedule a FREE consultation today!
We can help find a solution that makes sense for you!